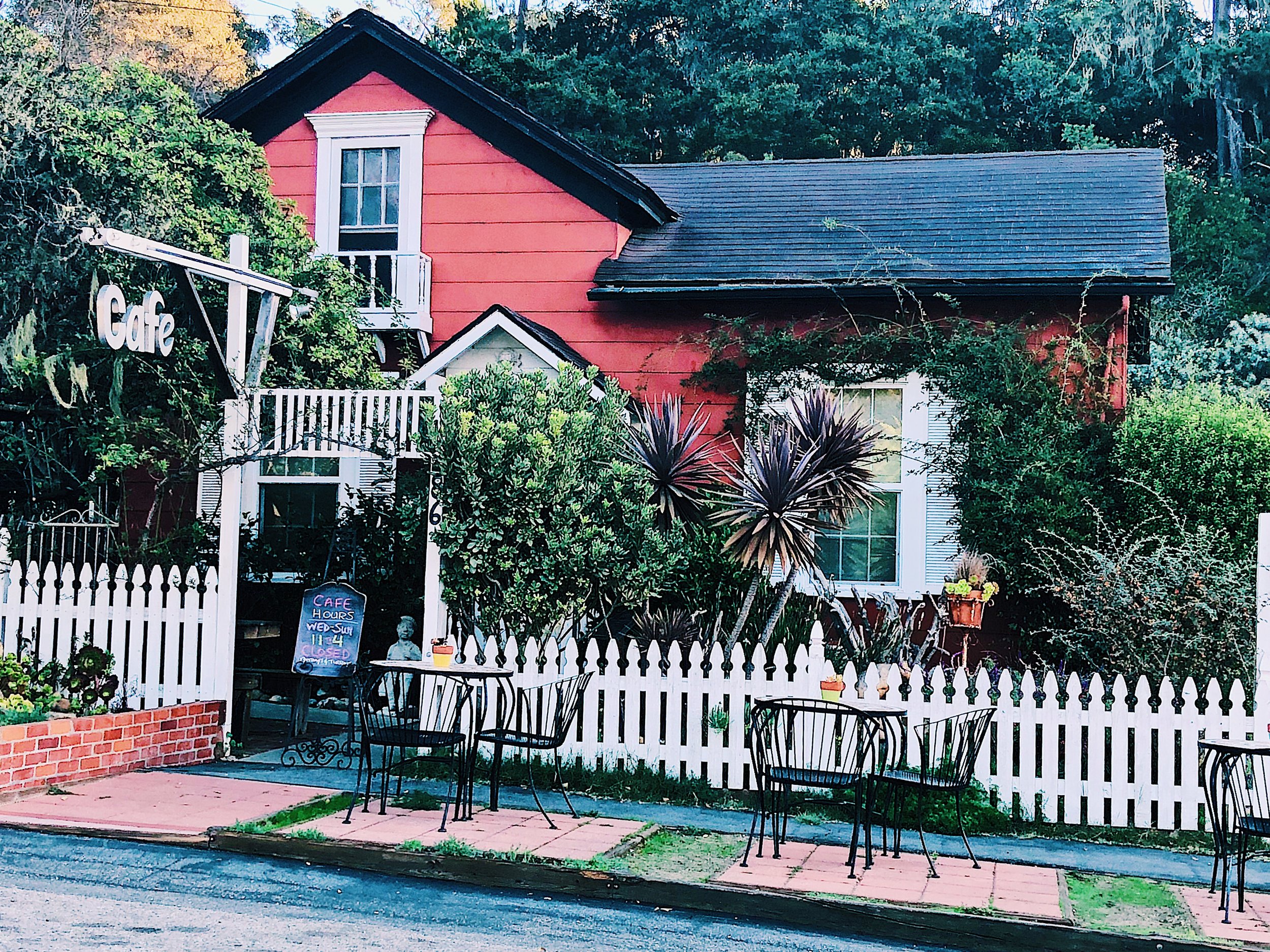 Café on Bridge St
Locally Sourced × Crafted with Love
Located in a seaside town on the central coast of CA, The Café on Bridge Street is a specialty lunch restaurant housed in a historical building.
The Café on Bridge Street opened in May 2015 and is located off Main Street in the East Village of Cambria, CA. The restaurant is owned and operated by Guy Souther, whose passion for serving fresh, simple, yet refined food has brought him to the Central Coast where the ingredients seem to grow bigger and better in the valleys and in the sea air near the Pacific.
The Café on Bridge Street aims to cultivate real food and real relationships by preparing all your food from scratch daily. Soups are homemade with the freshest local ingredients available and are inspired by Cambria's ever changing weather. We serve food we think you would make for yourself at home if you had the time.
Our sandwiches are made with specialty bakery breads piled high with the freshest ingredients we can get our hands on and we portion them so you never leave hungry. Whether you crave our world famous Pastrami Sandwich with a local craft beer, want lighter vegan fare with a crisp glass of wine, or want to wait till the coastal fog clears before your hike with a hearty, delicious soup made fresh that morning, come join us for lunch at The Café on Bridge Street.
Phone
(805) 927-2890
Location
4286 Bridge Street
Cambria, CA 93428
Hours
Mon Closed
Tues Closed
Wed 11a-4p
Thurs 11a-4p
Fri 11a-4p
Sat 11a-4p
Sun 11a-4p
Price varies
Soup of the Day
cup / bowl
Price varies
$

12.50
Chicken Cobb Salad
roasted chicken, bacon, chopped egg, blue cheese crumble, olives, tomatoes, cucumbers, walnuts and avocado with choice of dressing
$

11.50
Chicken Taco Salad
seasoned chicken, black beans, cheddar cheese, corn, black olives, tomato avocado, chips, jalapeños, cilantro, sour cream, green onions with salsa and Italian dressing
$

11.50
Mandarin Chicken Salad
chicken, mandarin oranges, chow mein noodles, almonds, red bell peppers, green onions, cilantro, red cabbage, carrots with Sesame dressing
$

11.50
Buffalo Chicken Salad
spicy chicken, bacon, blue cheese crumble, grilled onions, celery, carrots, tomatoes, cucumber, olives, cilantro with choice of dressing
$

11.50
Chopped Cheeseburger Salad
chopped cheddar cheeseburger, tomatoes, cucumbers, red cabbage, carrots with choice of dressing
$

12.95
Greek Chef Salad
turkey, ham, eggs, feta & cheddar cheese, artichoke hearts, black olives, red and green bell peppers, garbanzo beans, tomatoes, cucumbers, red onions, and sliced beets with greek feta dressing
$

13.25
Nicoise Salad
albacore tuna chunks, green beans, artichoke hearts, potato salad, black olives, eggs, tomatoes, greek feta dressing
$

10.95
Avocado Salad
avocado, hemp seed, walnuts, tomatoes, olives, cucumber with choice of dressing
$

10.95
Spinach Salad
mozzarella, mushrooms, garbanzo beans, artichoke hearts, black olives, tomatoes, avocado, croutons with choice of dressing
$

12.95
Hot Pastrami
sliced pastrami, swiss cheese, tomatoes, pickles, mayo, mustard on a toasted sourdough roll and served with coleslaw
$

12.95
French Dip
sliced beef, swiss cheese on a toasted sourdough roll with choice of salad
horseradish and onion served upon request
$

12.95
Grilled Chicken Club
grilled chicken, bacon, melted cheddar cheese, sprouts, lettuce, tomatoes, cucumber, avocado, mayo on toasted sourdough served with choice of salad
$

11.50
Chicken Pesto Caprese Sandwich
chicken, mozzarella cheese, spinach, tomatoes, roasted red pepper, pickle, pesto sauce served on a sourdough roll with a choice of salad
$

11.50
BBQ Chicken Sandwich
bbq chicken, cheddar and pepperjack cheese, ortega chile pepper, jalapeños, tomatoes, pickles, mustard, and bbq sauce on toasted sourdough served with coleslaw
$

12.50
Chicken Cobb Salad Sandwich
roasted chicken, bacon, sliced egg, blue cheese crumble, lettuce, tomatoes, cucumbers, avocado, mayo and dijon mustard on sliced sourdough served with a side of chips
$

11.25
Southwest Turkey Melt
turkey, cheddar and pepperjack cheese, ortega chile, lettuce, tomatoes, pickles, pepperoncini, chipotle mayo served on toasted sourdough with a side of with chips
$

12.50
Beef, Blue Cheese, & Mushroom Melt
sliced beef, melted blue cheese, sautéed mushrooms, tomatoes, pickles, mayo, mustard served on a wheat bun with a choice of salad
$

12.50
Grilled Beef & Bacon Melt
sliced beef, pepperjack and cheddar cheese, grilled onions, tomatoes, pickles, mayo, mustard, bbq sauce served on a toasted sourdough roll with a choice of salad
$

11.95
Hot Beef Ortega Melt
sliced beef, pepperjack and cheddar cheese, ortega chile, tomatoes, pickles, jalapeños, mayo, mustard served on a toasted wheat bun with choice of salad
$

11.95
Meatloaf Sandwich
meatloaf, bacon, melted cheddar cheese, lettuce, tomatoes, pickles, mayo, mustard served on a toasted sourdough roll with a side of chips
$

11.25
Grilled Mushroom Pesto Melt
grilled mushrooms, provolone cheese, artichoke hearts, tomatoes, spinach served on a wheat bun with a side of chip
$

6.95
Café Grilled Cheese
served on toasted sourdough with a side of chips
$

11.95
Turkey Club
turkey, bacon, ham, cheddar cheese, sprouts, lettuce, tomatoes, cucumber, mayo served on toasted sourdough with choice of salad
$

10.95
Turkey, Avocado & Cheddar
turkey, cheddar cheese, lettuce, tomatoes, avocado, pickles, mayo on a wheat bun served with a side of chips
$

10.95
Turkey Submarine
turkey, provolone cheese, lettuce, green bell peppers, pickle, pepperoncini, tomatoes, oregano, oil and vinegar, mayo, mustard on a sourdough roll served with a side of chips
$

11.50
Italian Submarine
capocolla, mortadella, ham, salami, provolone cheese, tomatoes, pickles, bell peppers, mayo, mustard, oil and vinegar served on a sourdough roll with a side of chips
$

10.95
Tuna Stack
white albacore tuna salad, sprouts, lettuce, tomatoes, pickles, pepperoncini, mayo served on a toasted sourdough bread with a side of chips
$

11.50
Beef, Avocado & Cheddar
sliced beef, cheddar cheese, lettuce, tomatoes, pickles, avocado, mayo served on a toasted wheat bun with a side of chips
$

9.95
Classic BLT
center cut bacon, tomatoes, lettuce served on toasted sourdough with a side of chips
$

9.75
Big Sur
mushrooms, sprouts, pepperjack cheese, tomatoes, cucumbers, red cabbage, avocado, carrots, hemp seeds, lettuce, and mayo on a wheat bun with a side of chips
$

8.50
Little Sur
avocado, pepperjack cheese, sprouts, tomato mayo on sliced multigrain with a side chips
$

8.95
Avocado Delight
avocado cream cheese, spinach, alfalfa sprouts, tomatoes, cucumbers, red onion on a wheat bun with a side of chips
$

8.25
Plain Jane Sanwiches
choice of meat & cheese and the works = lettuce, tomato, pickles mayo, mustard served on a ciabatta bun with a side of chips
chicken with pepperjack
turkey with cheddar
ham with swiss
salami with swiss
beef with cheddar $9.25
$

8.95 /

$

9.85
California Burger
organic, grass-fed beef burger, lettuce, tomatoes, pickles, mayo, mustard served on a brioche bun with a side of chips
$

12.95
Island Burger
organic, grass-fed 1/3lb beef burger, bacon, mozzarella cheese, lettuce, tomatoes, grilled pineapple, jalapeño, mayo, teriyaki sauce served on a sesame seed bun with a side of chips
$

12.95
Cordon Beef Burger
organic, grass-fed 1/3lb beef burger, ham, swiss cheese, sautéed mushrooms, tomatoes, pickle, mayo, dijon mustard on toasted sourdough with a side of chips
$

11.50
Chopped BBQ Beef Burger
organic, grass-fed 1/3lb beef burger, lettuce, pickle, jalapeños, bbq sauce, mayo on a sesame bun with a side of coleslaw
$

11.95
Deluxe Black Bean Burger
black bean burger, pepperjack, avocado, ortega, sprouts, jalapeño, lettuce, tomato, pickle, & chipotle mayo on wheat bun served with a side of chips
$

9.50
Veggie Burger
veggie burger, pepperjack, sprouts, lettuce tomato, mayo, mustard, pickle, carrot on a wheat bun served with a side of chips
$

11.95
Greek Garden Burger
feta cheese, roasted red pepper, artichoke hearts, red onion, spinach, olives, cucumber, tomato, mayo, dijon mustard, pepperoncini, pickle on served with a side of chips
$

8.95 /

$

9.95
BYOB Burger
organic, grass-fed beef burger, lettuce, tomatoes, pickles, mayo, mustard served on a brioche bun with a side of chips
add-ons:
jalapenos $0.25
american, cheddar, swiss, provalone, mozzarella, pepperjack $0.95
grilled onions $0.50
alfalfa sprouts $0.65
pineapple, ortega chile, roasted red pepper $0.95
fried egg $1.00
artichoke hearts $1.25
goat, brie, havarti $1.50
mushrooms $1.50
fresh avocado $2.00
center cut bacon $2.50
ham steak $2.50
extra patty $3.50
pastrami $3.95
$

2.75
12oz Glass Bottle Sodas
mexicoke, mexipepsi, 7up, squirt, fanta pina, fanta orange, dr. pepper, dad's rootbeer, frostie's rootbeer, bubble up, grape crush, orange crush
$

2.75
20oz Plastic Bottle Sodas
coke, diet coke, coke zero, dr. pepper, diet dr. pepper, minute maid lemonade, minute maid pink lemonade
$

2.75
Boylan Sodas
rootbeer, cane cola, creme soda, blackcherry
$

2.95
Bundaberg Brewed Drinks
blood orange, rootbeer, gingerbeer, guava, lemon, lime & bitters, peach
$

3.25
Calypso
lemonade, black cherry, strawberry, ocean blue, pineapple passion, triple melon
$

2.75
Reed's Ginger Brews
original ginger brew, raspberry ginger brew
$

3.25
Fentiman's Soda
rose lemonade, dandelion & burdock
$

2.95
Honest Tea
half tea & half lemonade, peach, pomegranate, honey green tea
$

2.25
Sparkling Flavored Water
san pellegrino, blood orange, orange, lemon, grapefruit
Prices varies
Bottled Water
crystal geyser 500ml, crystal geyser 1l, fiji 500ml, perrier 300ml, perrier 750ml, smartwater
Prices varies
$

3.75
Coors Light
lager, golden, colorado
$

4.25
SLO Brew
san luis obispo, california
$

4.75
Fig Mtn Light
light ale, buellton, california
$

4.75
Fig Mtn Hoppy Poppy
ipa, buellton, california
$

4.95
Fig Mtn Hurricane Deck
ipa, buellton, california
$

4.75
Firestone DBA
ale, paso robles, california
$

4.75
Firestone Easy Jack
ipa, paso robles, california
$

4.75
Firestone Union Jack
ipa, paso robles california
$

4.25
Firestone 805
ale, paso robles, california
$

4.95
Allagash Black
stout, portland
$

4.95
Sierra Nevada Pale Ale
ale, chico
$

4.95
North Coast Brewing Co. Brother Thelonious
ale, fort bragg, california
$

4.25
Kona Brewing Co. Big Wave
ale, kailua-kona, hawaii
$

4.25
Corona Extra
lager, mexico
$

4.25
Bohemia
lager, mexico
$

4.25
Dos XX
lager, mexico
$

4.25
Pacifico
pilsner, mexico
$

4.25
Estrella Jalisco
pilsner, mexico
$

4.25
Amstel Light
lager, amsterdam
$

4.25
Stella Artois
pilsner, belgium
$

4.25
Becks
lager, germany
$

6.25
Hollows & Fentimen's Ginger Beer
ginger beer, 500ml
$

4.75
Golden State Cider Mighty Dry
hard cider
$

16
Sauvignon Blanc
brander los olivos, 2017
$

16
Sauvignon Blanc
honig napa valley
$

10
Chardonnay
tarrico paso robles, 2016
$

11
Chardonnay
j. lohr paso robles, 2016
$

17
Chardonnay
saintsbury napa valley, 2015
$

14
Pinot Noir
tarrica paso robles, 2011
$

11
Merlot
j. lohr paso robles, 2015
$

14
Cuvee LeBec
beckman santa ynez, 2013
$

12.50
Cabernet Sauvignon
j. lohr paso robles, 2015
$

10.50
Cabernet Sauvignon
tarrica paso robles, 2016
$

25
Cabernet Sauvignon
honig napa valley
$

16
Zinfandel
peachy canyon paso robles, 2015
$

22
Zinfandel
opolo paso, 2015
$

6.50
Pol Clément Brut
france, 187ml
$

10.50
Pol Clément Brut
france, 375ml
$

5.95
California Champagne
tobin james paso robles
Contact Us
4286 Bridge Street
Cambria, CA 93428
(805) 927- 2890
Mon Closed
Tues Closed
Wed 11a-4p
Thurs 11a-4p
Fri 11a-4p
Sat 11a-4p
Sun 11a-4p